Today's Programming
STRENGTH
Pause Back Squat
1-1-1
Notes
Work up to a heavy single pause squat. If you're not 100% confident you'll make the lift, use spotters. Only go as heavy as you can hold proper positions with.
METCON
"Fran"
21-15-9 Reps for time of:
Thrusters
Kipping Pull-Ups
Notes
Aim for around 3-8 minutes on this workout and try to keep the intensity high. Scale the pull-up version and volume and weight to get you there. There is a 10 minute cap on this workout.
Thrusters: Competition loads for this workout are 95/65. Consider (+/95/75/65/45/-)
Pull-Ups:
Kipping lower volume & Strict Unassisted 15-9-6 or 9-6-3
Banded 15-9-6 / Ring Rows 21-15-9
CrossFit Group Class Programming Template
Alchemy @ Home
Virtual Class Zoom Room (Password: alchemy)
Alchemy @ Home: 7am
Warm Up
2-3 Rounds:
5e Quadruped Adductor Rockbacks
10 Prone Ys
10 Alternating Hollow Dead Bugs
5e Reverse Lunge w/Twist
Strength
A1. Single Leg Box Squat
4 x 5-8 Reps Each
A2. Single Leg Elevated Bridge
4 x 8-10 Reps each
A3. Single Arm Z-Press (or Filly Press)
4 x 5-8 Reps Each
METCON
AMRAP 4:00
2, 4, 6, 8, 10, 12, 14…etc
Alternating Forward Lunges
Gate Swings
Burpees
—Rest 2:00—
AMRAP 4:00
2, 4, 6, 8, 10, 12, 14…etc
Goblet Alternating Forward Lunges

Coach Brett during yesterday's Knee Strength, Stability and ROM Seminar
CFSBKer Leslie is looking for someone to adopt her kittens
Leslie is fostering a litter of 5 "sweet, all black and ready for adoption" kittens. If anyone in the CFSBK community is looking to expand their family, please see the info and link below!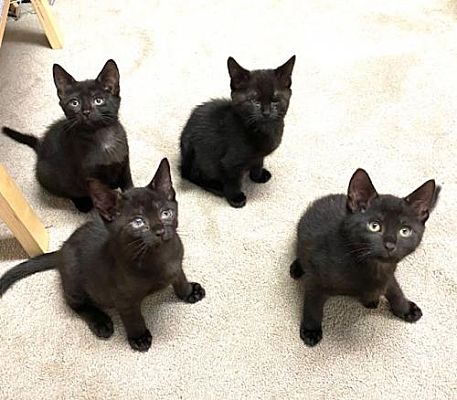 These little black beauties are all super affectionate and social. They are super playful and perfect little kittens! They were rescued very young and have been in a foster with kids, cats and dogs. They must be adopted in pairs. They are tested negative for felv/fiv and up to date on vaccines. They'll be spayed/neutered when old enough through Brooklyn Animal Action.
See the listing on adoptapet.com here.
---
Lauren Fisher and Jordan Adcock do Heavy Fran (95lbs and CTB Pull-Ups) in 2:54 and 3:12