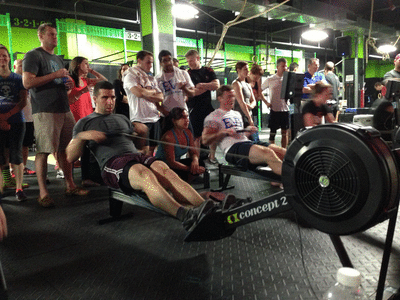 The CFSBK Rowing Team pulled a collective 42,195 meters in 3:04:08.9 with an average split of 2:10.09. They were raising funds for the Emergency and Trauma Fund at Boston's Children's Hospital, where some victims of the Boston bombing are being treated. If you'd prefer to donate some money over rowing 42K meters, donate here!
Congrats to our softball team, the CFSBK Calveras who won their game this week 14-2 bringing their overall record to 7 and 2. Their next game is tonight at 6:15 at the Red Hook Ball Fields where they'll probably be taking on the New York Yankees, right?
Meat and Vegetable CSA Pickup

TOMORROW
The regular meat and vegetable CSA schedule is in effect for
tomorrow
,
Wednesday, July 3
. Pickup is from
6-8:30 PM
. If you're taking the 7:30pm class, please claim your share before you take class. Thanks!
Also, thanks to everyone who came out to the Farm this past weekend to meet their meat! You can see some photos from the outting in our Flickr Page! If you went, what did the experience do for you?
Some More Awesome From This Past Month
Todd C Snatched 159lbs
Jake L Front Squatted 340, Benched 320
Keith W Squatted 265 and Deadlifted 292
Coach Fox PRd his CrossFit Total at 1,010 with 355/170/485
Bjorn B made it to class 4xW for 2 weeks in a row!
Ryan J PRd his CrossFit Total at 875 with 325/150/400
Marian L held a plank for 8:20
Laura Mc got her first chin up.. and then 6 more!
Charlie also got her first chin up!
Michele PRd her bench. She didn't write the number so lets say 400
Isaac PRd his Back Squat at 250
Stella Z PRd her CrossFit Total at 552 with 210/87/255
Emma Lisa reached an assisted banded chin-up volume PR with 5×5
Coach DO PRd his Clean and Jerk at 206

Leaderboard Performances
Joe F ran a half marathon in 1:21:37
Gareth Ran a 5K in 18:26
Dan L performed "Helen" in 7:46
Coach Lady Fox PRd her CrossFit Total at 675 with 260/100/315
Jake L Clean and Jerked 317 and Snatched 265.5
Rickke M performed "Nasty Girls" in 7:59
Serene K Back Squatted 250
Matt K Clean and Jerked 275
Dan H Rowed 500m in 1:22.2
_______________________
What did you accomplish in June? What would you like to accomplish in July?