65%x2x8
Lots of speed every rep, minimal transition time between sets with your partner(s).
Post loads to comments.
compare to 5.9.12

21-15-9 Reps For Time of:
Power Clean 135/95
Pull-Up

Post time and Rx to comments.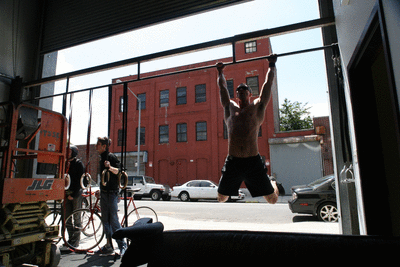 How many Pull-Ups Can Joe O Do?
Happy Belated Birthdays, Rickke M and Allen G!
Happy Birthday, Nate R!

Join the CFSBK Pub Quiz Team
Got lots of facts swimming around your brain? Like to eat and drink with other interesting people? Stella Z is organizing the CFSBK Pub Quiz team to dessimate the ever popular Pacific Standard Triva Night. Peep the Deets:
Date: Sunday, May 20
Time: Paleo dinner 6 PM, pub quiz 8 PM
Location: Paleo dinner at Stella's apartment (email for address), pub quiz at Pacific Standard, 82 4th Avenue, Brooklyn
Dinner info: Main course and side dishes provided by Stella; others are welcome to bring apps, drinks, and/or desserts as the mood strikes.
How to RSVP: Send an email to stellavision (at) gmail and you'll be added to the Evite.
New Strength Cycle Dates!
Upcoming 3x Per Week Cycles
Cycle A (Novice Program)
5/21/12 – 7/13/12
Mondays and Wednesdays from 7:00-8:30pm
and
Fridays from 6:00-7:30pm
Cycle B (Intermediate/Advanced)
5/22/12 – 7/15/12
Tuesdays and Thursdays from 7:00-8:30pm
and
Sunday from 10:00-11:30am
Upcoming 2x Per Week Cycles
Cycle C (Morning)
5/21/12 – 7/11/12
Mondays and Wednesdays from 6:30-8:00am
Continuing Education
5/22/12 – 7/12/12
Tuesdays and Thursdays at 6PM
If anyone is confused as to which cycle they belong in, they can contact Jeremy to discuss placement.
Cost
3x Per Week Cycles:
$300 paid upon registration and then another $300 at the halfway point
2xW Cycles:
$200 paid upon registration and then another $200 at the halfway point

Class Sizes
Space is limited to 8 participants

Class Length
One hour and thirty minutes
______________________
The Fascial Knock on Distance Running for Pitchers Eric Cressey
City Unveils Locations of Bike-Share Stations NY Times
39 Ways to Not be Like Everyone Else Renegade Strength and Conditioning
Knowing Sucks Scrawny To Brawny